北海大英雄【中/英雙語 + 注音】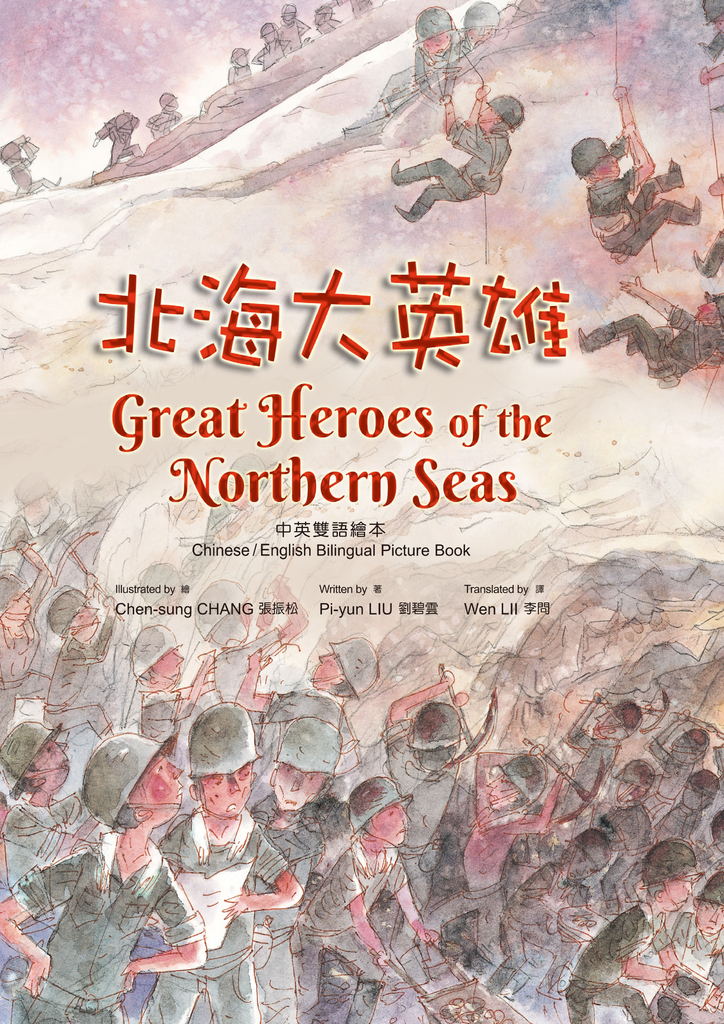 ★ 本書為中/英雙語版 ★

一群隨著部隊遷移到馬祖島上的小小士官兵,每天早上吃過早點,就帶著簡單的工具往坑道口出發。有的士兵清除雜草、有的人搬運石塊、挖鑿坑洞、鑽孔、填炸藥……

「小心!」炸藥、爆破、碎片、流血……日復一日。

小兵望著隱隱酸痛的右小腿、、揮汗繼續工作。島的另一邊,是敵方。海,看起來似乎風平浪靜,看不見的地方,卻暗藏著一觸即發的戰役……

馬祖列島曾經以「戰地前線」的形象聞名,冷戰時期兩岸間的緊張氣氛及軍事設施的險峻,讓青年弟兄對來到離島都為之卻步。而今,隨著觀光腳步的開放,掀去神祕面紗的外島前線,正訴說著一幕幕動容的感人故事。

一場熱鬧壯觀的火砲射擊,揭開老士官長塵封已久的回憶;隨著震天的隆隆砲聲,向孩子們訴說當年親手開鑿坑道的動人往事。作者用士官長的故事,帶領讀者閱覽馬祖坑道的過往歷史:從軍事、運補、戰備、指揮、儲存、等不同的需求而呈現不同的面貌。

然後進一步深入坑道內,從彈藥孔、潮濕岩壁、戰備儲糧、弟兄寢室…,讓讀者體驗當年弟兄在坑道內潮濕的環境下生活的艱辛。並感佩在物資充分支援不足的外島,大家仍在「榮譽」光冕加持下,從事徒手挖鑿安置炸藥等危險的任務,終於成就了一座座令人嘆為觀止的鬼斧神功。

最後,在觀光腳步的開放之中,卸下神祕面紗的坑道,在功成身退之際仍榮耀的擔負起觀光的尖兵,讓遠道的友人:見識它那別有洞天的壯觀與美妙,並向英勇打造的國軍與在地居民獻上最誠摯的敬意。


A Chinese/English bilingual picture book about military cultural heritage sites in the Taiwan Strait

Years ago, Pete's grandfather served in the military in Matsu, a group of small islands located between Taiwan and China.

This engaging picture book takes young readers back in time, as Grandfather tells Pete exciting stories about how the troops constructed countless tunnels, air-raid shelters, underground harbors, and other fortifications along the rugged coastlines of the Matsu Islands.

These extraordinary works of craftsmanship are a testimony to the Matsu Islands' historic role as a "front line" of defense for Taiwan on the northern tip of the Taiwan Strait. Now gradually open to tourists for recreational use, military structures built during the Cold War form an important part of Matsu's cultural heritage.

Stories from the Matsu Islands will undoubtedly resonate with many people from across the world whose lives were deeply affected by the Cold War. They may echo similar experiences found along important political fault lines, including the Berlin Wall between East and West Germany, as well as the DMZ between the two Koreas.

"Grandpa, have you ever stayed in one of those tunnels?" Pete asked.

"Inside those tunnels were cannon openings, shooting platforms, kitchens, bathrooms, bedrooms... even pigs were kept there!" Grandfather exclaimed.

Join Grandfather and Pete as they retell the experiences of both the troops and local residents in Matsu, in a magnificent landscape hand-carved by shovels and pickaxes. As the mystery that once veiled the strongholds has fallen, visitors also gain a deeper understanding of this fascinating part of history.