Little Princess's Fantasic Journey
live to travel , travel to live.
Little Princess's Fantasic Journey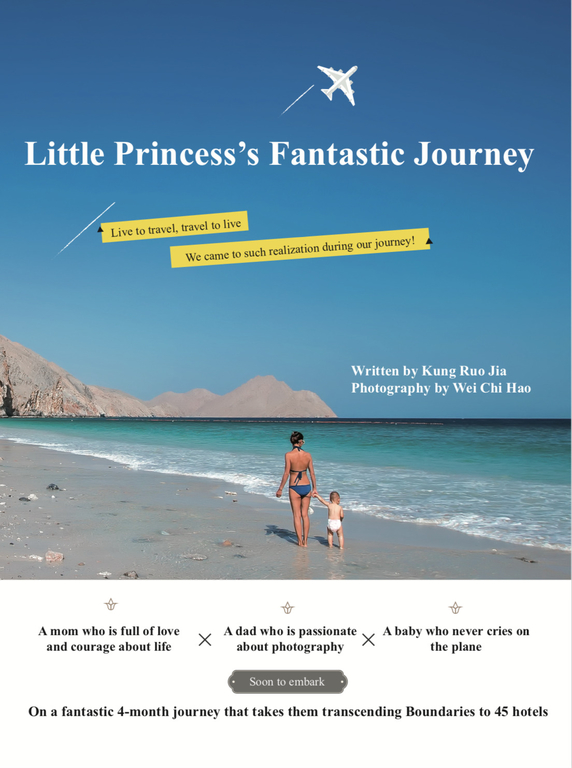 Youngest kid travelled 45 luxurious hotels in one year.

★A mom who is full of love and courage about life.
★A dad who is passionate about photography.
★A baby who never cries on the plane.

Travel to...
Taiwan
Singapore
Macau
Vietnam
Combodia
Bali_Indonesia
Maldives
Kyoto_Japan
Oman
Arab Emirates
Thailand
Malaysia

-------------------------------------------------------------------------
Preface

Getting away from our familiar surroundings through traveling enable us to grow during the journey. Every moment we spend together evokes true happiness and touching sentiments. Exploring the world at a young age, this is not only a learning path for Little Princess but for us as well. Since Little Princess is bombarded by stimuli in new environments every day, she has nurtured an optimistic, sociable and adventurous personality. I believe these are the qualities that will bene t her for a lifetime.

Whenever I page through Little Princess's Fantastic Journey photo album, the wonderful memories of traveling flash back like frames in a movie, and I deeply feel that we were destined to take part in each journey. Ever since Little Princess was 4 months old, we have begun traveling with her. Throughout the journeys, she never experienced any discomfort or fell ill, as if she was born to admire all the sceneries in the world. She ate well and slept well. Even when we were aboard a noisy propeller-driven small plane or a dizzyingly fast powerboat, she stayed calm and embraced all the challenges. She was patient when we hopped from hotel to hotel, and she welcomed each exotic adventure with a joyous heart.

Deep down, I believe she was born to travel. She is a gift from above, allowing us to experience so many interesting stories in so many di erent countries.

Traveling with children is marvelous. Children, family and life are bonded together during the process, creating an unmatched sense of happiness. Making traveling part of life has enabled me to understand the meaning of
love, self-enrichment and spiritual upliftment.

I have to thank my husband for taking me on these journeys and making the whole family's dream come true. He is passionate about life and traveling, and he is willing to take the family to experience enjoyment, encouraging us to appreciate the value of life, nature and the world in a more profound level. He is also an avid photographer, spending a great deal of time honing is photography skills, thus images he captures are brimming with unique aesthetics and quality. For each trip, he tirelessly hauls around over 30kg of camera equipment and lenses to document each touching moment in our journey. He is the warmest travel companion. I want to thank all the friends I have come across throughout the journey, as well as the hospitable service sta and comfortable hotels, because they are the key ingredients of each of our fantastic journey.

Thank you Little Princess, for enriching our lives and completing our happiness. Little Princess's Fantastic Journey will continue around the world, and plans for the Little Prince's Adventure are soon to be unveiled. The journey is far from over, because another dream is eagerly waiting to be launched. Let us anticipate with bated breath!